Campus Biodiversity
The University of Arkansas recognizes that our campus landscape has the ability to provide much more to our community than just good aesthetics. A biodiverse urban landscape provides invaluable ecosystem services to the entire community. These benefits include air filtering, noise reduction, micro-climate regulation, water treatment, recreation, and general wellness. The Office for Sustainability plays an active role in advancing biodiversity on the University of Arkansas campus. Our goal is to enhance the ecosystem services of our campus while educating students, faculty, and staff on the important role biodiversity plays in a balanced system.
Our campus is certified by Bee Campus USA for our efforts to create a more biodiverse and healthy environment for pollinators. We are currently working towards certification from Bird Campus USA and Tree Campus USA.
Mullins Creek Restoration Project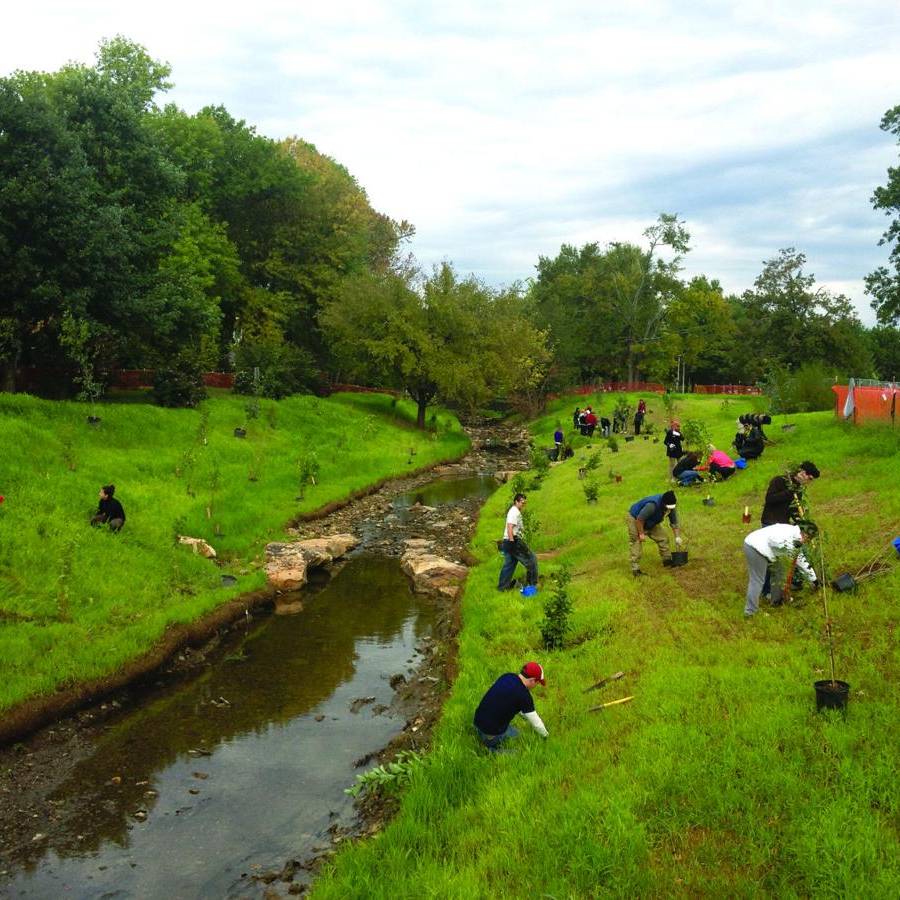 The Office for Sustainability seeks to involve our students and community in three areas in biodiversity: water quality, animal life, and plant life. The Mullins Creek Restoration Project highlights all these areas. The Watershed Conservation Resource Center (WCRC), along with the UA and the City of Fayetteville, undertook the restoration of Mullins Creek. An urban stream restoration plan was implemented to reduce erosion down a 1,000-foot section of Mullins Creek located on campus. Water from the creek eventually flows into Beaver Lake, the primary water source for over 400,000 people in NWA. Erosion of stream banks contributes sediment and nutrients to the waterway, potentially damaging native plants and animals as well as increasing water treatment costs. Over 60 volunteers helped plant more than 300 trees during the volunteer day organized by the WCRC.
Please click here to learn more about the Mullins Creek restoration project.