UASC Special Meetings
Zero Waste Summit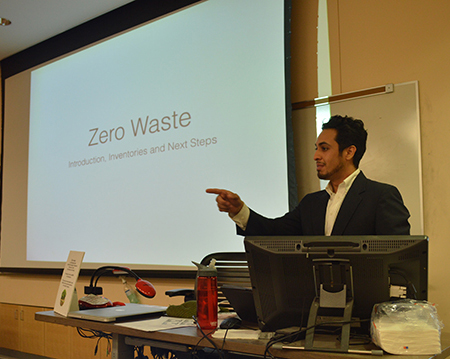 On November 10, 2014, members of the University of Arkansas Sustainability Council came together with campus and community stakeholders for a comprehensive overview of the university's goal of becoming a Zero Waste institution by 2021. Carlos Ochoa, the Director of the Office for Sustainability, presented relevant background information as well as the efforts than have taken place so far. The presentation was followed by a group discussion of the challenges we face and strategies for success.
Minutes
Presentation (PDF)
Waste Data Spreadsheets
Workgroup Summit
On August 7, 2014, the Office for Sustainability convened the first annual Workgroup Summit. The purpose of this meeting was to bring members of all of the UA Sustainability Council workgroups together to update one another on their projects, initiatives, and challenges. Workgroup members discussed how they could work together to help other workgroups achieve their goals. Workgroup members also used this summit as a way to look forward into the upcoming academic year and set new objectives.