OFS Staff
Office for Sustainability Organizational Chart
Marty Matlock, Executive Director
Marty Matlock is Executive Director of the UA Office for Sustainability and Professor in the Biological and Agricultural Engineering Department at the University of Arkansas. He received his Ph.D. in Biosystems Engineering from Oklahoma State University in 1996, is a registered professional engineer, a Board Certified Environmental Engineer, and a Certified Ecosystem Designer. The focus of Dr. Matlock's research is metrics that inform practices in sustainable design.
Eric Boles, Director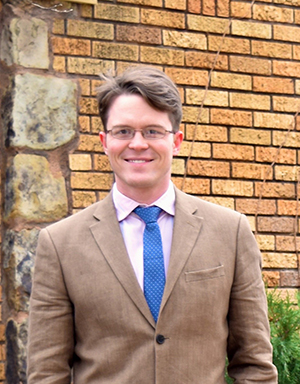 Eric Boles is Director of the UA Office for Sustainability and Executive Secretary of the UA Sustainability Council. He completed a Master of Science degree in Biological Engineering in 2013 and specializes in science-based sustainability solutions.
While working as a Research Associate at the University of Arkansas, he was able to participate in a wide array of research projects and sustainability initiatives. Eric specialized in large-scale sustainability efforts and created tools to help the US pork, poultry, and beef industries make informed decisions regarding their use of natural resources.
Eric's professional experience includes co-founding Paradigm Sustainability Solutions, a company that assists organizations with sustainability planning, reporting, and stakeholder engagement. He takes great pride in making the business case for sustainability and helping organizations acknowledge the importance of social, economic, and environmental sustainability.
As Director, Eric works collaboratively across campus to demonstrate progress towards the U of A's sustainability goals, which are to be zero waste by 2021 and carbon neutral by 2040.