Zero Waste
In 2015 we expanded our efforts towards reaching our goal of a 90% solid waste landfill diversion rate by 2021. We added a Zero Waste Program Manager to the Sustainability Leadership Team, expanded public outreach, and partnered with organizations to identify better options for managing our solid waste streams. Partners include Gamer4Good, the UA campus community, and the City of Fayetteville. We recognize that the biggest opportunities to save money while reducing environmental impacts are reducing and reusing resources. Too often the conversation skips those steps and moves directly into recycling efforts. Zero waste strategies require consideration of the entire life cycle of waste within our campus community, including procurement, use and disposal.

Game Day Challenge
The Game Day Challenge is a friendly competition among colleges and universities across the nation to promote waste reduction at football games. The University of Arkansas Athletics Department leads this challenge with the help of the Office for Sustainability and volunteers across campus. In 2015 the U of A ranked 1st in the SEC conference for the third consecutive year for the highest diversion rate and 10th in the nation for the total pounds recycled with 25,620 pounds recorded.
Zero Waste Events
The Zero Waste Events program registered 11 events in 2015. The OFS provided all the necessary equipment, including up to 20 ClearStream recycling receptacles, signage, and a variety of weighing and measuring equipment. These tools are provided to UA sponsored events free of charge. Zero Waste Events can be scheduled via a simple online form.
Gamer 4 Good Pilot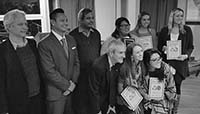 The Office for Sustainability conducted two tests in collaboration with Gamer 4 Good, a company dedicated to reinventing recycling for the digital age. The experiment's main goal was to determine whether creating a competitive gaming platform for recycling would generate enough incentive for students at the university to increase recycling activity.
The Alpha test involved collaborating with 118 participants from three Honors Economics classes who recycled material during a 10-day period totaling at 292 pounds. This experiment increased the overall rate of can and bottle recycling for the month of October by seven percent. The Beta test focused on engaging Greek life on campus, which included eight houses. These students collected 2,423 pounds of plastics, aluminum cans, and cardboard over a two week period, representing what an average U of A student would recycle in 12 years.