Student Internship & Leadership Program
Student Internship & Leadership Program
The Office for Sustainability (OFS) employed 14 student interns to work on projects within built, managed, natural and social systems in 2014. This program provided students with experiences in a wide range of activities, such as research, reporting and sustainable innovation. Although it is not a requirement, most of the student interns were enrolled in the Foundations of Sustainability minor. By working in the OFS, they encountered a variety of opportunities to see principles learned in the classroom at work in real-world applications. This included not only identifying problems and implementing solutions, but discovering and addressing obstacles and working with other offices and individuals on campus to achieve mutually beneficial goals.
OFS interns worked on projects essential to our operations. Under the guidance of the OFS staff, a group of interns conducted a project to assess the carbon sequestration potential of the campus's trees. Interns provided assistance with much of the research and data analysis involved in tracking KPIs and were the major drive behind our outreach programs and events throughout the year.
As part of the student internship program, the OFS also engaged four students in sustainability leadership roles on campus. The OFS supported students designated to the positions of Associated Student Government Sustainability Director and Residents' Interhall Congress Director of Sustainability through collaboration and mentorship. This empowered student leaders to have a greater influence among their peers while aligning projects and initiatives closely with U of A sustainability goals and OFS activities.
Meet the Interns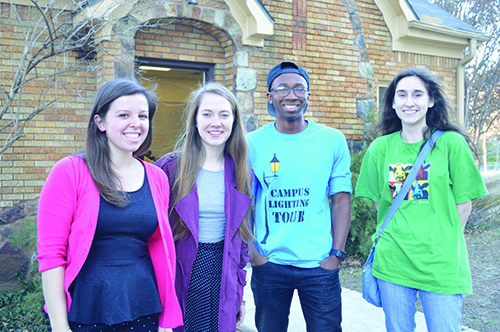 Jeremy Baker—graduate student, agricultural and food law. He created the Food Recovery Blog, which provided coverage of the School of Law's Food Recovery Project.
Erin Cooper—sophomore, chemical engineering. She collected data for and contributed to drafting the Carbon Sequestration Report.
Katharine DeRossette—graduate student, higher education administration. She ­coordinated volunteers for the Game Day Recycling Challenge and coordinated waste reduction strategies for campus Greek Life.
Theresa Ehrlich—graduate student, public administration. In addition to student outreach, she coordinated the creation and adoption of the Green Revolving Fund, created the website bike.uark.edu, and spearheaded the Bike Fest event.
Katie Ferran—sophomore, biology. She coordinated vendor participants and facilities for the 2014 Earth Day event, worked on two urban forestry research projects, and helped in drafting a Campus Carbon Sequestration Report.
Kate Hurlbut—sophomore, geography earth science. She conducted waste audits and developed source reduction strategies for the Walton College of Business and Mechanical Engineering buildings.
Merissa Jennings—freshman, biological engineering. She conducted a study of metrics for the Living Building Challenge.
Cory Johnson—senior, crop science. He assisted in the creation of the Integrated Pest Management Plan.
Rachel Kraus—senior, international relations and Spanish. She gathered and analyzed data for Key Performance Indicators and assisted with the AASHE STARS reporting process.
Madeline Meier—sophomore, chemistry. She conducted a feasibility study and crafted a recommendation for the development of a Green Labs program at the U of A.
Lauren Hake—sophomore, elementary education. As the 2013–2014 Sustainability Director for Residents' Interhall Congress, she procured five new Hydration Stations and two Bike Fix-It Stations for University Housing.
Elizabeth Hood—senior, political science. As the 2013–2014 Director of Campus Sustainability for Associated Student Government, she assisted with the development of the Green Revolving Fund.
Cameron Baker—senior, earth science. As the 2014–2015 Associated Student Government (ASG) Director of Campus Sustainability, he created a resolution mandating zero waste events for all ASG activities, authored a bill supporting the U of A's zero waste goal, and developed a suite of waste reduction and recycling related strategies for adoption by ASG.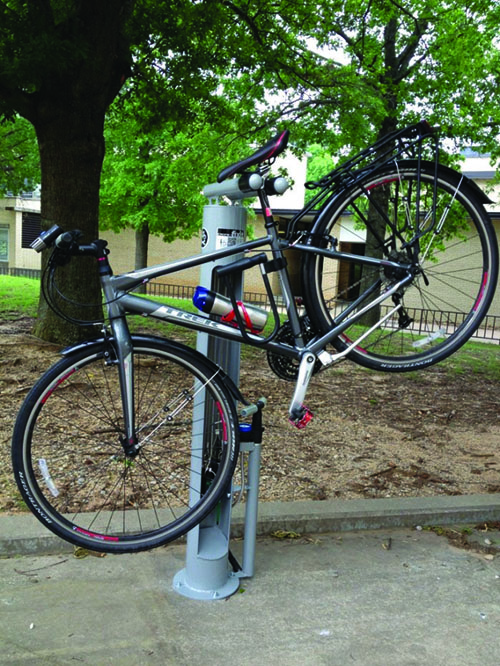 Kenneth Hamilton—junior, psychology. In his position as the 2014–2015 Sustainability Director for Residents' Interhall Congress, he led recycling programs in two residence halls, procured "smart power strips" for one hall, and led a sustainability think tank at the Southwest Affiliate of College and University Residence Halls conference. He also procured thirty new recycling containers for University Housing and two new Bike Fix-it Stations.