Food Recovery
Background
The Office for Sustainability has been proud to support one of the signature programs of the U of A Volunteer Action Center, Razorback Food Recovery (RFR). RFR was launched in February 2014 when it began recovering food from retail sites on campus (Phase 1). Phase 2 began in the fall semester and expanded recovery efforts to campus dining halls. As of November, the group, made up mainly of students, had recovered around 20,000 pounds of food.
What is Food Recovery?
Food recovery is an issue that has been receiving increasing attention on a national level, as it addresses the dual problems of food waste and food insecurity. To do this, sources of edible food waste must be identified and partnered with to divert that food from the landfill and deliver it to hungry people. Typically food is donated to local food pantries and soup kitchens who are already engaged in efforts to feed the hungry. Razorback Food Recovery works with local food service agencies as well as the U of A Full Circle Food Pantry, another Volunteer Action Center program, to distribute recovered food to families and individuals who may be struggling with food security.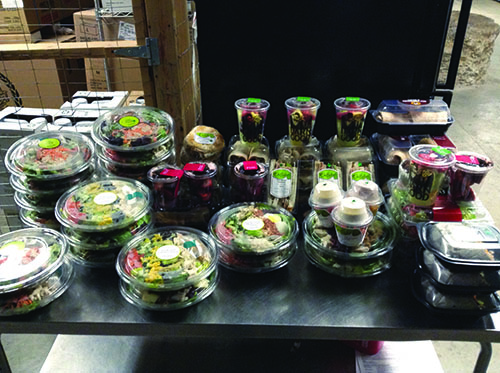 The Food Recovery Project
Razorback Food Recovery's tremendous strides would not have been possible without the U of A School of Law's Food Recovery Project, which paved the way in 2013 when it published The Legal Guide to Food Recovery. This document is a brief, easy to understand guide for food vendors to grasp the legality of food recovery. Often, vendors have concerns about legal liability involved with food donation, but this is a common misconception. In fact, there are already legal protections and guidelines in place to support these kinds of activities.
Recognition
During the summer, Razorback Food Recovery and the Full Circle Food Pantry received a $35,000 grant and a freezer truck from Tyson Foods, Inc. to enable them to expand their operations.
In recognition of the food recovery work being done on campus, the U of A received a 2013 Achievement Award from the United States Environmental Protection Agency. Carlos Ochoa of the OFS and Nicole Civita of the Food Recovery Project accepted the award at the Arkansas Recycling Coalition Conference in October.