Academics
Sustainability Minor
The U of A began offering the Foundations of Sustainability undergraduate minor in 2011. Designed to be relevant to students from any major, the minor is interdisciplinary, creating a framework for students to find the connections between sustainability, their major, and other disciplines across the institution. In addition to three core sustainability (SUST) courses, students select three courses from an extensive menu of electives approved by the Sustainability Curriculum Steering Committee (SCSC).
Enrollment Growth
With 111 students enrolled, the sustainability minor was the 12th most popular minor offered at the U of A and experienced approximately a 25% growth in enrollment during 2014. The three core sustainability courses each saw record enrollment as well. This is due in part to recruitment efforts by Office for Sustainability staff, in addition to growing popularity of the courses through word of mouth.
Interdisciplinary Appeal
The sustainability minor is designed to teach students to recognize the interconnectedness of systems. This type of thinking is crucial to ­understanding the challenges of sustainability. The first two courses, Foundations of Sustainability SUST 1103) and Applications of Sustainability (SUST 2103), achieve this through incorporating team teaching and guest lectures to expose the students to a broad range of expertise and insight.
The success of this approach is reflected in the diversity of the students in the classes and in the minor. In a typical class, as well as in the minor, each baccalaureate-granting college of the university is represented. This includes students from as many as 49 majors in one classroom, encouraging them to learn from one another as well as from instructors.
Capstone Experience
The final requirement of the sustainability minor is the Capstone Experience in Sustainability (SUST 4103). Students must complete a research project, internship or community service project and submit a report connecting it to the principles learned in the classroom. Seventeen students completed their capstone experience for the spring 2014 semester. Projects ranged from creating a composting system for a local soup kitchen, to a study of carbon emissions from all commuters to and from the U of A campus, to a study on wastewater treatment methods.
All students produced posters documenting their project, results, and learning outcomes. These posters were placed on public display in the Arkansas Union on Earth Day (April 22, 2014) and are also permanently displayed online. As of December 2014, a total of 64 students have completed the capstone experience and graduated with the minor.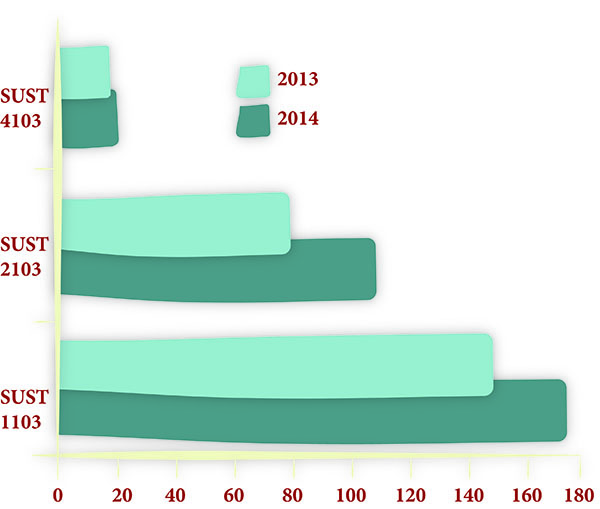 Graduate Certificate in Sustainability
The Graduate Certificate in Sustainability was created in 2012 as a way for graduate students to incorporate sustainability into their education, and for working professionals to develop credentials in sustainability. To earn a graduate certificate, students must take Sustainability in Business from the Walton College of Business as well as four courses selected from an interdisciplinary list of electives approved by the SCSC for providing cross-cutting content and discipline-specific depth.
In its second year, there were 10 students actively pursuing the Graduate Certificate in Sustainability program, and four students completed the program, bringing the total number of graduates to five.
Research and Scholarship
In October 2014, the U of A sent four representatives to the Association for the Advancement of Sustainability in Higher Education (AASHE) annual conference in Portland, OR. One sustainability student and OFS intern, Katharine DeRossette, attended. Carlos Ochoa presented a poster on research conducted in 2013 on zero client virtual computing. And Professors Steve Boss and Tahar Messadi led a day-long workshop on sustainability research methods for the second consecutive year.
The workshop had 24 attendees from universities and colleges in the United States, Canada, and Saudi Arabia. AASHE also accepted proposals from Professor Boss and Professor Messadi to host a one-day, pre-meeting workshop on research methods in sustainability and a symposium on sustainability research to run concurrently at the 2015 AASHE Conference and Expo in Minneapolis, Minnesota in October 2015.